Ray White Cleveland
Property Management Services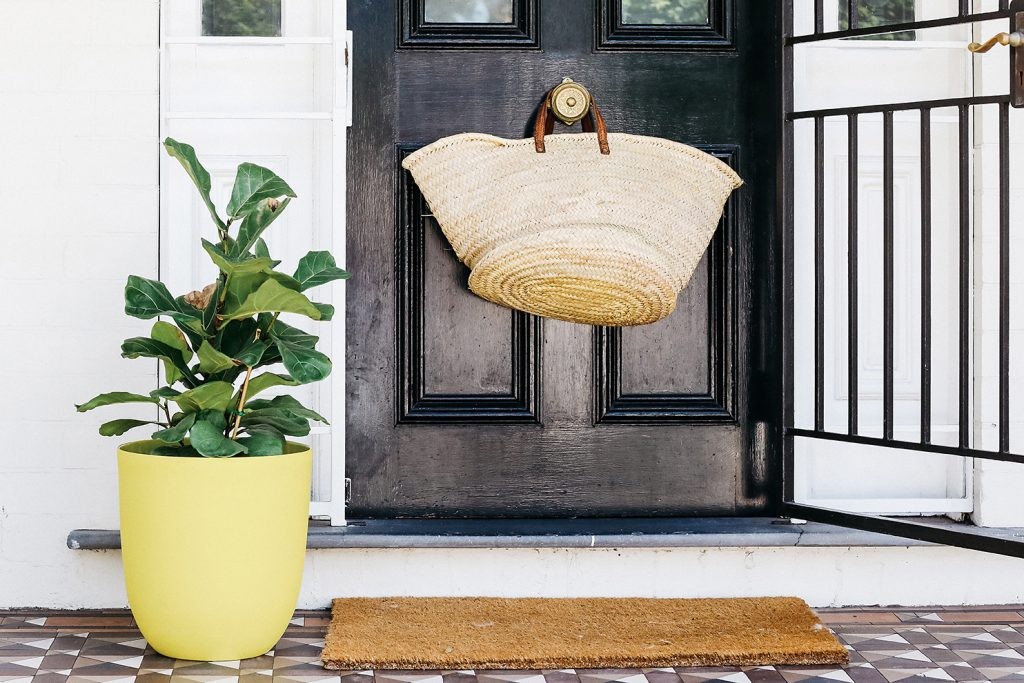 Benefits of Ray White Cleveland
As Australia's biggest real estate brand, we manage more than 200,000 rental properties for our investors
That's 60 suburbs filled with Ray White managed properties
Here is how yours could be one of them.
🏠
At Ray White Cleveland we know and understand what it means to be an investor.
Ray White Cleveland has the expertise and market insight to make sure you're maximising your return on investment and will always have your best interest at heart.
At Ray White Cleveland, we are local, we are experienced and we know that every property and every landlord are unique. Our Property Manager and office Principals are born & bred "Redlanders" each with 30+ years local knowledge and experience.
We understand that property investors place most expectations on
Ray White Cleveland delivers on these 3 things, and more.
With extensive experience in the Property Management field, Ray White Cleveland provide owners with detailed, informative and transparent service.
ONE POINT OF CONTACT
Adopting a portfolio based approach to the management of our properties means that Landlords, Tenants and even trades people all deal with the one staff member. This enables us to develop a thorough knowledge of the property and eliminates frustrations due to lack of clear communication, speaking with the wrong person or lost messages.
OUT OF OFFICE
Even when out of the office conducting inspections and leasing properties, our Property Manager is provided with the mobile tools to stay in touch and all clients are provided with their mobile phone number. Our software allows for maintenance to be recorded and actioned from site, complete and send routine inspection reports, track quotes and maintenance all in real time and remotely. This allows our Property Manager to be more efficient when in the office rather than doubling their work or risk forgetting something because they couldn't complete it from site. .
LOCATION, LOCATION, LOCATION
Located in Middle Street, Cleveland our office is central to the areas we cover. We regularly conduct curbside inspections of properties to check that the property is being maintained between scheduled routine inspections.
LANDLORD PORTAL
At Ray White Cleveland we believe in full transparency with our Owners and Tenants with absolutely nothing to hide. Utilising the latest cloud technology Ray White Cleveland provide Owners with 24/7 access to their property information from anywhere in the world.
Ever had a tenant fall behind in rent? You can now log in and see exactly when your tenant is paid up to – it updates as soon as rent is receipted into our Trust account.

All our photos in Entry, Exit and Routine inspections are date and time stamped giving an accurate picture of the current status of the property.

Track the progress of maintenance works.

Log in and see how much rent you will be receiving BEFORE it is disbursed to you. No last minute topping up of the account before the mortgage is debited.

Access & download statements, invoices, leases, inspection reports.

Check how much maintenance, rates, insurance bills etc are being deducted before disbursement takes place.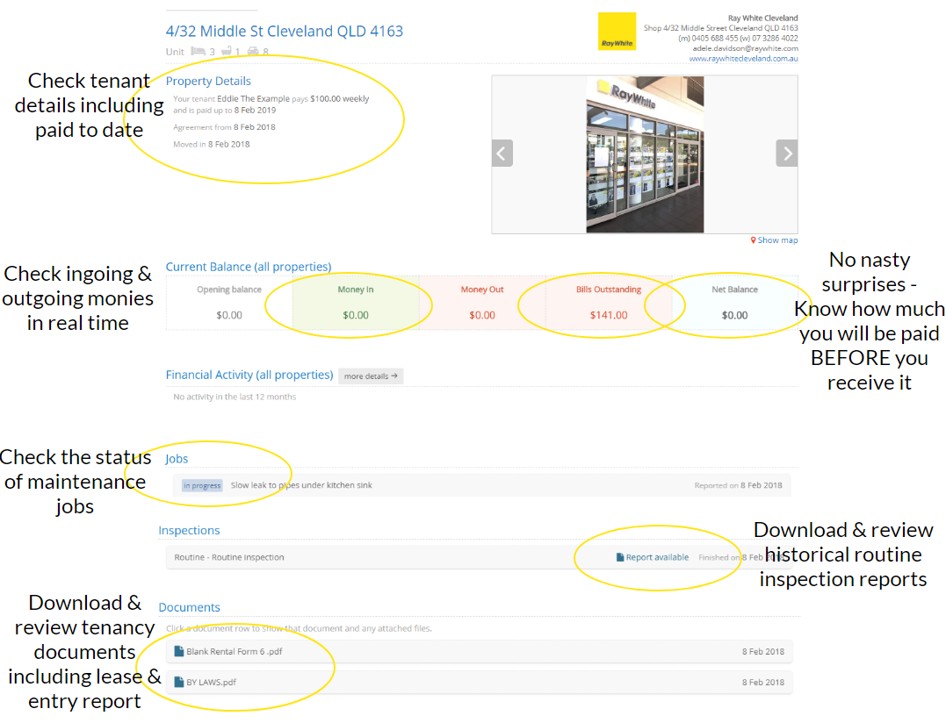 Tenants also have access to their own Tenant Portal allowing them to
Preview & download historical rent receipts, water invoices & receipts,

Log maintenance requests,

Overview of crucial tenancy details,

Message their Property Manager directly.
LANDLORD PAYMENTS
Ray White Cleveland provide owners with a choice of when they receive their rent monies –
End of Month – 1st working day of the month, or

Mid month & End of month – 15th or closest working day after 15th and 1st working day of the month, or

Wednesday of every week.
Owners are able to check their PropertyMe Owner Portal at any time prior to disbursement to check the amount that they will be receiving. Owners receive their rental income statement via email along with copies of any invoices included in the same email. Copies of statements and invoices are automatically stored in the Owner Portal also.
Reducing your bank interest?
Take advantage of our weekly disbursements to owners.
TENANT REWARDS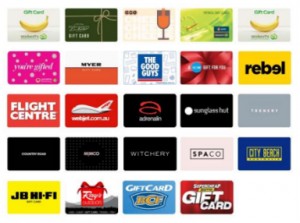 We love looking after our Tenants, we understand that happy Tenants mean stable Tenants for our Owners. That's why we choose SimpleRent for our online rent payment system.

Our Tenants are able to access the SimpleDiscounts program providing them discounts to over 40 national retailers.
ROUTINE INSPECTIONS
Our PropertyMe software allows routine inspection reports to be completed with time & date stamped photos in real time while at the property. Any identified maintenance jobs can also be logged and issued from site.
For new tenants the first routine inspection is completed at 6 weeks. This enables the subsequent inspections to take place at key times around lease renewals and pre-vacating.
Upon completion of a successful inspection, Ray White Cleveland provide tenants with a small gift – easter eggs, appreciation note, clean room certificate for small children, Christmas candy etc.
If any areas are identified that need tenants attention a note is left at the property and tenants are contacted by a follow up phone call. If a Breach Notice is issued a follow up inspection is completed at no cost to owner or tenant.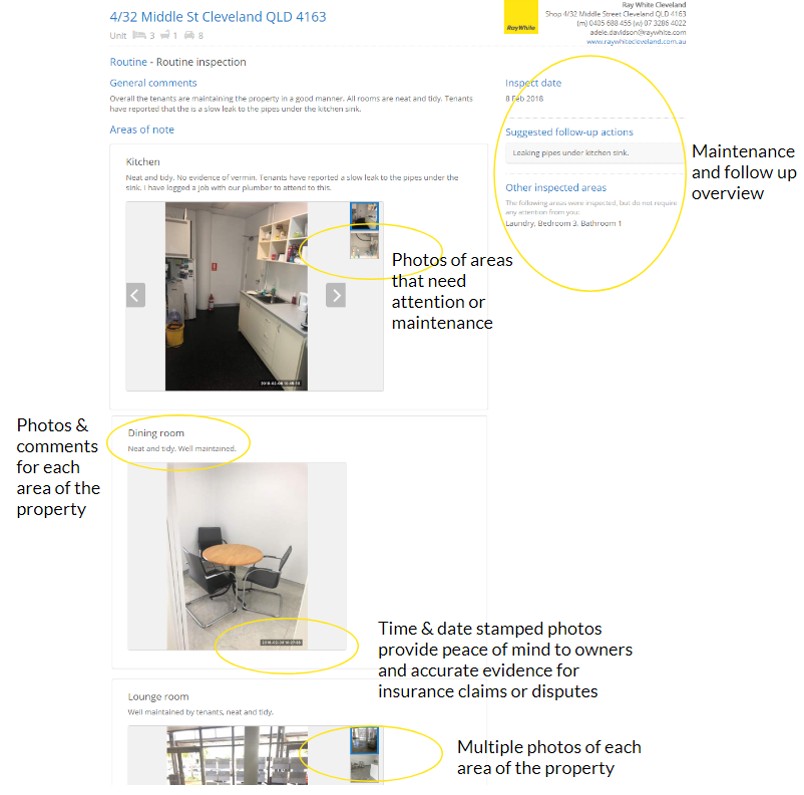 RAY WHITE SERVICES
Ray White supports owners and tenants with a variety of investor, home and property services including depreciation schedules, storage and removalists, utility connection and even pet transportation. Contact us to discuss your needs and Ray White Cleveland can make the arrangements for you.
Ray White Concierge –
Insurance – Allianz – Property, Contents & Landlord

One month free insurance for Ray White clients

Tax Depreciation Schedule

Storage

Tradespeople and maintenance through HiPages

Removalists

Pet transportation with JetPets
Ray White Home Now – Connection and disconnection of
Electricity,

Gas,

Landline phone

Internet,

Foxtel